Air Jordan XVII – Air Jordan 17
Original Air Jordan 17 (XVII) Release Colorways
Air Jordan 17 (XVII) Original White / College Blue – Black
Air Jordan 17 (XVII) Original Black / Metallic Silver
Air Jordan 17 (XVII) Original White / Varsity Red – Charcoal
Air Jordan 17 (XVII) Original White / Black – Metallic Copper – Sport Royal +
Air Jordan 17 (XVII) Original Low White / University Blue / Black – Chrome
Air Jordan 17 (XVII) Original Low All Star White / Lightning – Black – Chrome
Air Jordan 17 (XVII) Original Low Black/Chrome
Air Jordan XVII (17) Original Black/Metallic Silver Mule
Air Jordan XVII (17) Original White/Red Mule
Air Jordan XVII (17) Original White/Black Mule
Retro Air Jordan 17 (XVII) Release Colorways
Air Jordan 17 (XVII) Retro Black / Metallic Silver Countdown Pack
Air Jordan 17 (XVII) History
Michael Jordan was President of Basketball Operations for the Washington Wizards. When the 2001-2002 season came, Michael resigned his position as President of Basketball Operations, but signed a player contract. Guess who's back?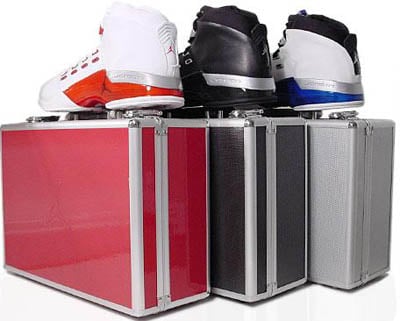 Wilson Smith III designed the Air Jordan 17. Around the time sketching was started, Michael signed Michael Phillips the musician. So one key element to the Air Jordan XVII was from Jazz music. If you look on them you will notice molded in jazz notes. Also, inspirations for the shoe once again came from a car, this time being an Aston Martin.
The soles were said to come from a golf course Michael played at.
The Air Jordan XVII were nicely made, and they came equipped with a removable mid-foot strap, Zoom Air sole, dynamic-fit sleeve, hidden quick lace system, lace-locks, leather uppers and carbon-fiber sheath.
When you purchased the Air Jordan 17, you got a nice metal carrying case and a CD. The price tag on the Air Jordan XVII had most people in shock, $200.00! The highest ever for a pair of Air Jordans.
In 2002, when the Air Jordan XVII released, four colorways came out, which retailed for $200.00. Three low models came out, ($150.00) and three mules ($100.00).