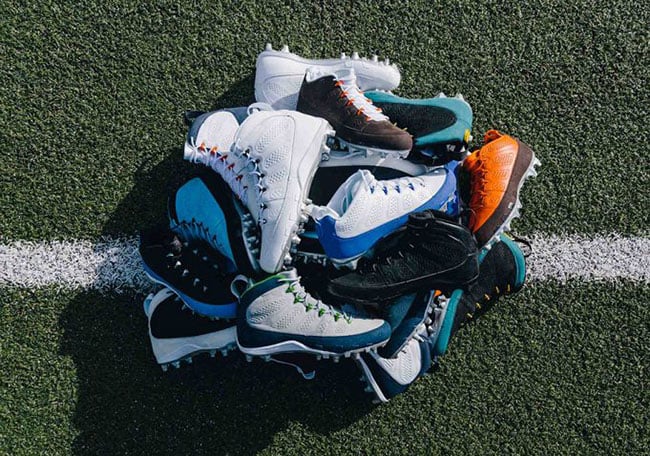 Jordan Brand has just unveiled the Air Jordan 9 Football Cleats for the 2016 NFL Season. You will see members of Team Jordan wearing them starting Sunday.
This season, Jordan Brand is also proud to extend its family of football athletes by welcoming Golden Tate, world-champion and Pro Bowl wide receiver, Thomas Davis, Pro Bowler and elite outside linebacker, and Jordan Reed, a dynamic tight end. Jordan Brand rookies, Jalen Ramsey and Corey Coleman, will also take the professional field for the first time this Sunday.
Each Air Jordan 9 cleat is designed in the athlete's preferred mid- or low-cut style and features team-inspired color schemes, personalized tongue embroidery, a Dynamic Fit inner bootie and a single-pull lacing system.
Check out the full lineup of Cleats using the Air Jordan 9 that are specifically designed for each NFL Athlete. As well, let us know which pair you like best.
Michael Crabtree Air Jordan 9 Cleats

Alshon Jeffrey Air Jordan 9 Cleats

Andre Johnson Air Jordan 9 Cleats

Dwight Freeney Air Jordan 9 Cleats

Jalen Ramsey Air Jordan 9 Cleats

Thomas Davis Air Jordan 9 Cleats

Earl Monroe Air Jordan 9 Cleats

Corey Coleman Air Jordan 9 Cleats

Joe Haden Air Jordan 9 Cleats

Dez Bryant Air Jordan 9 Cleats