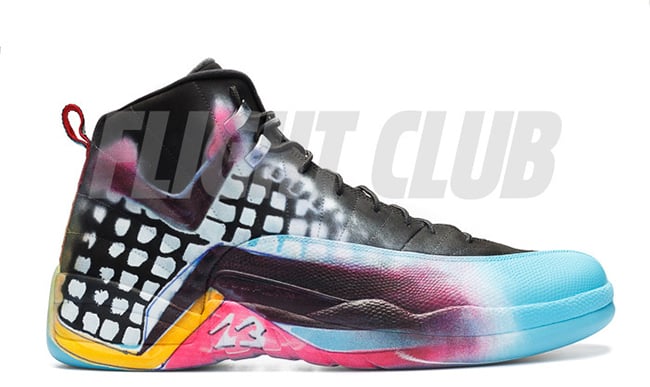 First Doernbecher launched 'The Master' Air Jordan 12 #DBDOZEN auction and now the 'Gamma Blue' Air Jordan 12 follows using designs done by hand by none other than Mark Smith from Nike.
Just like 'The Master', the Air Jordan 12 'Gamma' features original sketches and designs from Tinker Hatfield when he was designing the Jordan 12s back in the mid 1990s. Only one side of the Gammas will feature artwork, the medial sign will be left for Mark Smith and Tinker Hatfield's autograph. The box will also be unique and features the two autographs as well.
The listings for the Jordan 12 'Gamma' #DBDOZEN auctions are now live and you can visit eBay to put in a bid. Get ready to bid high though, as at the time of writing, this pair is fetching close to $5,000. Additional photos can be seen below. Good luck.
Update: The charity auction for the Air Jordan 12 'DB Dozen' is well over, but a pair that went unseen is now available at Flight Club. The base which is the Gamma Jordan 12s won't come cheap as the consignment store is asking $11,000.