Kanye West and adidas have not forgotten about the Yeezy 750 Boost. It is confirmed that the two will launch the adidas Yeezy 750 Boost 'Black' which could launch later this year.
News that the black model of the Yeezy 750 Boost came months back when Ye went on Power 105.1 Breakfast Club radio station to confirm it. That was a while back but now it appears the shoes will drop sometime in Fall/Winter 2015.
We have seen photoshops of what the black version would look like, but today that all changes with a first look. Kanye West was wearing the shoes along his wife, Kim Kim Kardashian while attending the Givenchy show. It looks like the Photoshop isn't far off as both share the same black upper. The difference is the actual pair said to release will have a faint gum unit, almost transparent in areas.
adidas Yeezy 750 Boost Black Release Date
The Black adidas Yeezy 750 Boost has a release date set for December 19th, 2015. Good news is that Kanye West and adidas will debut the Yeezy Season 2 Collection on September 16th, 2015 at Skylight Modern, 537 West 27th Street during New York Fashion Week. Reports are saying the black Yeezy 750 Boost will be apart of the collection.
adidas Yeezy 750 Boost
Colorway: Black/Black
Release Date: December 19, 2015
Retail Price: $350
Product Number: BB1839
Update: By now you should know that the adidas Yeezy 750 Boost 'Black' will be releasing tomorrow, but if you somehow forgot, here is your reminder. Below you can see which stores are getting them, like Solebox. Good luck to all going after their size.
Update: Although we already knew that the adidas Yeezy 750 Boost in black would release this Saturday, adidas has confirmed the launch and provided a listing of stores that will carry them in North America and International.
adidas Yeezy Boost 750 Black Store Listings
AUSTRALIA
adidas Originals Store Emporium Melbourne
adidas Originals Store Melbourne Chadstone
adidas Originals Store Westfield Sydney City
Espionage
Highs & Lows (6050 Mt Lawley)
Highs & Lows (Perth)
Sneakerboy (Melbourne)
AUSTRIA
The 6th Floor
BELGIUM
adidas Originals Store Antwerp
Avenue
Fresh
Hunting and Collecting
Monar
Reservoir Shop
BRAZIL
Originals Concept Store
BULGARIA
Allure
CANADA
adidas Originals Store Montréal
adidas Originals Store Toronto
adidas Originals Store Vancouver
Haven (Edmonton & Vancouver)
Livestock (Toronto & Vancouver)
NRML
Off The Hook Boutique
CHINA
adidas Originals Store Shenzhen CoCo Park
Beijing SLT Brand Center
Catalog
Chongqing North Paradise Walk Originals Store
Deal
EXI.T
Foss
I.T
Juice
Shanghai HHL Brand Center
Unik
COLOMBIA
adidas Originals Store Medellin Tesoro
adidas Store Bogota Calle 122
DENMARK
adidas Originals Store Copenhagen
Foot Locker (Copenhagen)
Naked
Norse Project
Rezet
Size?
Storm
Stoy Munkholm
Wood Wood
FRANCE
Acte 2
adidas Brand Center Paris
adidas Originals Store Paris
Citadium
Colette
Galeries Lafayette
Le HUB Bastille
Shinzo
Size ?
SNEAKERSNSTUFF
Starcow
Summer
GERMANY
43einhalb
adidas Originals Store Berlin
asphaltgold
Beastin
Foot Locker
Foot Locker (München and Stuttgart)
Glory Hole
JD Sports
No74
Overkill GmbH
Solebox (Muenchen & Berlin)
Suppa
The Good Will Out
Uebervart
Wood Wood
GREECE
Device1
Phat Soles
HONG KONG
EXI.T
Juice Hong Kong
D-MOP/J-01
adidas Originals Store Hong Kong Causeway Bay
HUNGARY
La Soleil
INDIA
adidas Originals, Mumbai
adidas Brand Store, Bangalore
INDONESIA
Goods Dept
IRELAND
Brown Thomas
JD
Size?
ISRAEL
Factory 54 Namal
ITALY
adidas Originals Store Milan
adidas Originals Store Rome
Antonia
Antonioli
AW Lab
Backdoor
Cotton Club
Deliberti
Di Vincenzo Boutique
Eraldo
Excelsior
Foot Locker
G&b Negozio
Luisa via Roma
O'
One Block Down
Papini
Par5
Size?
SlamJam Ferrara
SlamJam Milan
Sneakers 76
Space23 (Rome and Milano)
Spazio Pritelli
Special Milano
Spectrum
Spoon
Suede
Sugar
Susi Store
The Dope Factory
Urban Jungle (Roma and Napoli)
JAPAN
Isetan Shinjuku
Styles Daikanyama
UNDFTD Osaka
Dice & Dice Tokyo
United Arrows & Sons Tokyo
adidas Originals Flagship Store Tokyo
Undefeated Shizuoka
Dice & Dice Fukuoka
DSM Ginza
Edifice
GR8
VA
BEAMS Tokyo
Undefeated JP
Billy's ENT
REPUBLIC OF KOREA
10 Corso Como
adidas Originals Seoul Flagship Store
adidas Originals Store Busan Seomyun
adidas Originals Store Daegu Dongsungno
adidas Originals Store Gwangji Chungjangno
adidas Originals Store Hyundai Daegu
adidas Originals STore Seoul Daehakro
adidas Originals Store Seoul Itaewon
adidas Originals Store Seoul Myungdong
Bcoontheshop Cheongdam
Beaker Cheongdam Flagship
Beaker Hannam Flagship
Kasina Haeundae
Kasina Hongdae
Kasina Seoul
Koon Haeundae
Koon With A View Sinsa
KUWAIT
Harvey Nichols Kuwait
LEBANON
The Good Life
MALAYSIA
adidas Originals Store Pavilion
NETHERLANDS
adidas Originals Store Amsterdam
Baskets
Foot Locker
FOUR by Azzurro
JD Sport
Patta
Size?
Woei
NEW ZEALAND
Loaded High Street
NORWAY
YME Studios
PHILLIPPINES
Commonwealth
ROMANIA
Baneasa Shopping City
RUSSIAN FEDERATION
Brandshop
Galeria
Kuznetsk Most 20
Minto
Nevskiy 152 (babochka)
Tsvetnoy Bulevar (OR)
SINGAPORE
adidas Originals Store Singapore, Scotts Road
Limited Edt Chamber
SOUTH AFRICA
Shelflife
adidas Originals Store Canal Walk
SPAIN
24 Kilates
adidas Originals Store Barcelona
adidas Originals Store Madrid
Elite
Foot Locker
Foot Locker Barcelona
Limited Editions
Nigra Mercato
Sivasdescalzo Barcelona
Sivasdescalzo Madrid
SWEDEN
Aplace
C-Store
Foot Locker Stockholm
Nitty Gritty
Sneakersnstuff
Tres Bien Shop
SWITZERLAND
titolo sport
TAIWAN
adidas Originals Store Nanxi
Invincible East
Invincible Central
Juice Taipei
Invincible South
THAILAND
adidas Originals Store Bangkok Siam Center
TURKEY
adidas (Ístinye)
UKRAINE
The Icon
UNITED ARAB EMIRATES
adidas Originals Store The Dubai Mall
Level Shoe District
UNITED KINGDOM
adidas Originals Store Liverpool
adidas Originals Store London
adidas Store London
Dover Street Market
Endclothing
Flannels
Footlocker
Footpatrol Ltd
Hanon
Harvey Nichols, Manchester and Birmingham
JD Sports
Sneakersnstuff
Triads Ltd
UNITED STATES
Addict
adidas Originals (Check Local Store)
adidas Store (Check Local Store)
Bait (Check Local Store)
Barneys Chicago
BBC – Billionaire Boys Club
BLENDS (Check Local Store)
Bows and Arrows
Burn Rubber
Champs (Check Local Store)
CLICKS
COMMONWEALTH
Concepts
COOL JS
Cream
CRSVR
Dover Street Market NY
DRIP (Antenna)
Eblens
Epitome
EXPRESSIONS
Extra Butter (LES)
Extra Butter (Rockville Centre)
Feature Las Vegas
Foot Locker (Check Local Store)
Footaction (Check Local Store)
GOT SOLE
Jimmy Jazz
Kicks Sole Provider
KITH
Kith Brooklyn
LACE UP
LEADERS
Major
NEO 39
NEXT/XHIBITION
ONENESS
Packer Shoes, Inc.
PacSun (Check Local Store)
Politics Lafayette
Premier
Private
Proper
ROCK CITY KICKS
RSVP Gallery
Shiehk Shoes
SHOE BIZ
Shoe Gallery
Shoe Palace (Check Local Store)
SIMONS (Check Local Store)
Sneaker Junkies
Sneaker Politics
SNEAKER TRAIN
Sneaker Villa (Check Local Store)
Social Status CPittsburg Liberty, Pittsburg Penn, Charlotte)
SOLE CLASSIC
SOLES INC (Miami and Miami Beach)
St. Alfred
SUCCEZZ
The Darkside Initiative
The Vault
Ubiq
Undefeated
UNDFTD (Las Vegas, SF, Silverlake)
UNHEARD OF
Walters
WEST
Wish ATL
Update: Just in time for Christmas, the adidas Yeezy 750 Boost 'Black' will launch on December 19th. Any day now the brand will let us know which stores will receive them. Our latest look is provided by YTWW.
Update: Easily our best look yet at the all black adidas Yeezy 750 Boost thanks to Sneaker Steal. What is a bit odd, he gave credit to Shoe Palace for the imagery. So will the Black 750 Boost be a wider release then expected?
Update: The second pair of the Yeezy 750 Boost done in all black are set to drop next week at retailers. Now we have more images giving us a closer look at whats to come thanks to YTWW.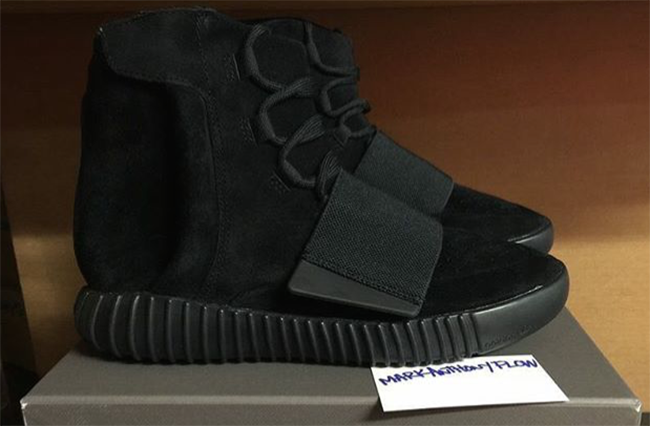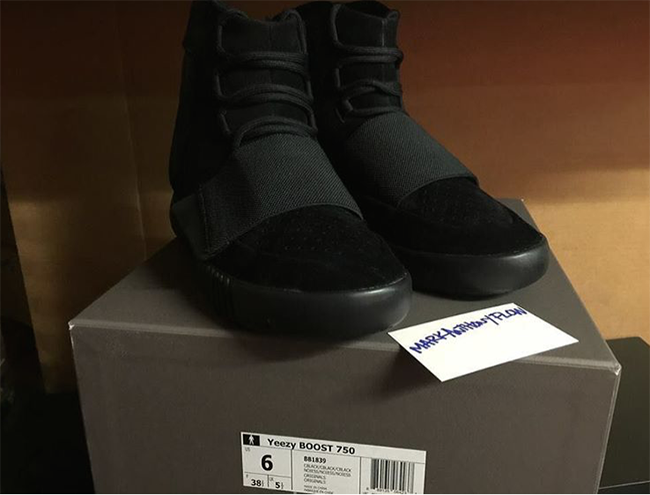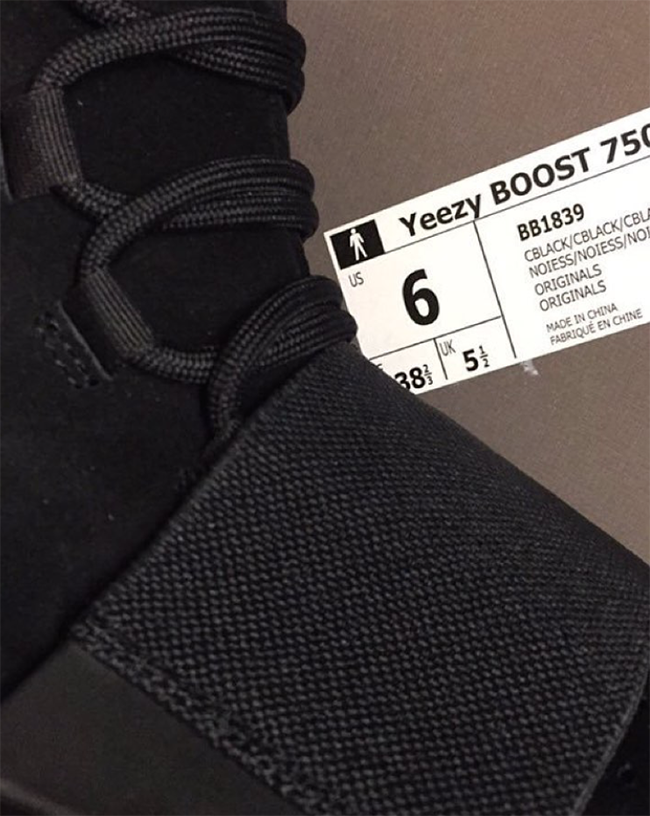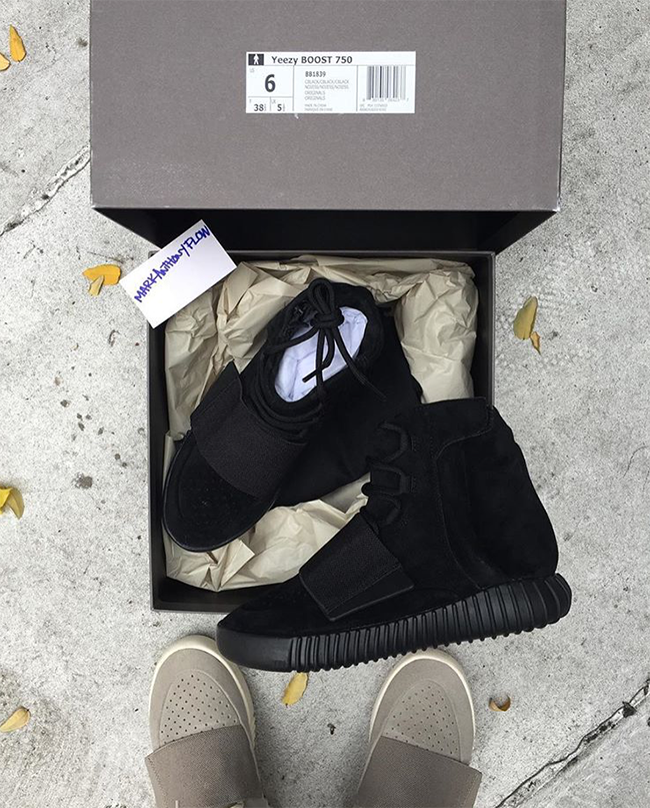 Update: The latest celebrity to get their hands on the Yeezy 750 Boost 'Black' is Cyhi The Prynce who received his pair directly from Kanye.
Update: Celebrities and friends of Kanye West are now receiving the 'Black' Yeezy 750 Boost like Travis Scott. What this means is that the shoes are releasing and we now have a look at what's to come and know they are authentic.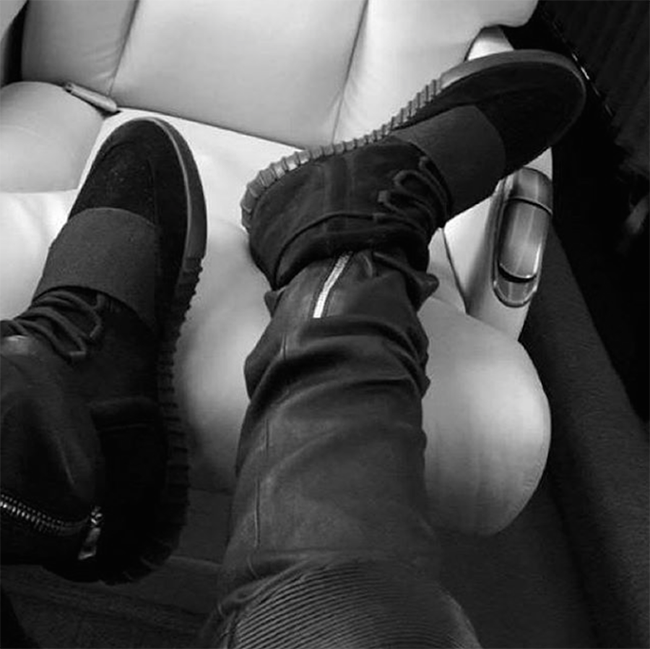 Update: Well this is odd. Kim K. shared with us an official first look of the 'Black' adidas Yeezy 750 Boost via her Livestream. This pair is set to release on December 19th. What is strange is Ibn Jasper recently said there is no 'All Black' 750 Boost releasing. The images are, for lace of a better word, horrible but at least we know they are coming.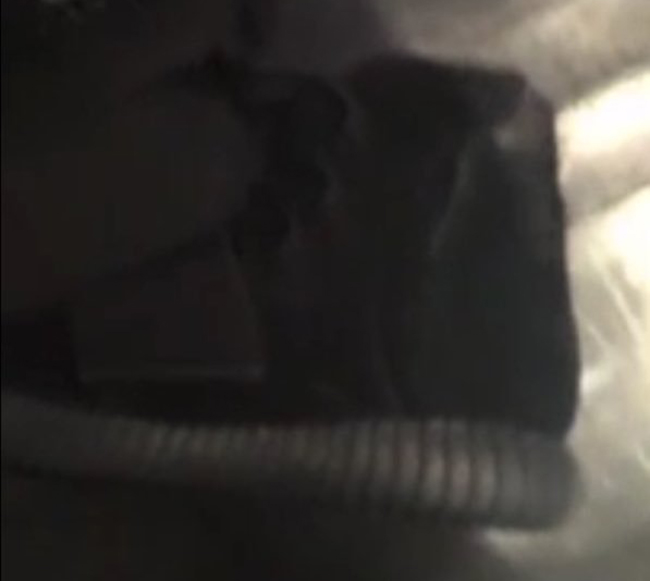 Kim just announced via her livestream that the Adidas YeezyBoost 750s in BLACK are COMING!!! 😭😭😭 pic.twitter.com/vsTzQF1DAH

— Kanye West (@YeezusKKW) December 3, 2015
Update: Ibn Jasper who is good friends with Kanye West has stated on Instagram that the 'Black' adidas Yeezy 750 Boost are fake. So far we have seen an all-black pair (shown) and another pair with a black upper and white midsole. He goes on to say that Kanye never wore a black pair of the Yeezy 750 Boost, but was actually a chocolate brown.
He goes on to say that any All Black Yeezy 750 is fake and to only trust pairs that are leaked or shown from Kanye, Kim or close friends. Below you can see what Ibn Jasper had to say.
Update: The adidas Yeezy 750 Boost 'Black' has a confirmed release date for December 19th, 2015. This information came from Wood Wood who will be raffling the shoes off. Their raffle starts on December 14th and will run till December 17th. Winners will then be notified on the 18th and you can pick up your pair from them on the 19th. Make note that the pair they have shown uses a white midsole, but the release will be in all black. This is probably due to adidas regulating stores to show the images this early.
Update: Our latest look at the adidas Yeezy 750 Boost 'Black' is a detailed one and will debut on December 5th, 2015. Will you be buying?
Update: Several sources have confirmed the 'Black' adidas Yeezy 750 Boost will release on December 5th, 2015. Different from the model we have seen prior, the released version will come in all black instead of a gum like outsole.
Source: citystylenyc, yeezytalkworldwide, jrsole
Source: MatthewSchneier, KimKanyeKimyeFC, baltsneakershow