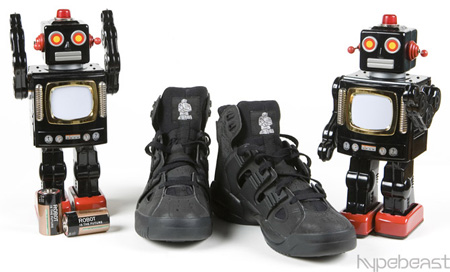 Adidas and Robot Films collaborate on a new project entitled Adidas Remix. The project features an EQT B-Ball designed by the film makers of Robert Fims, Chris Robinson and Set Free.
The designers took on a simplistic approach to the shoe and used an all Black upper. The shoe is kept simple throughout, however it does feature a motherboard graphic print and solid Black sole.
The EQT B-Balls feature customizable customizable sockliner, which is found on all of the EQT B-Balls. As included in the package, is two Robot is the Future New Era hats as well as a t-shirt to be released along with the shoes. 500 pairs have be released at stores including Atmos, Bodega, Major Inc and Robot. Via HB.