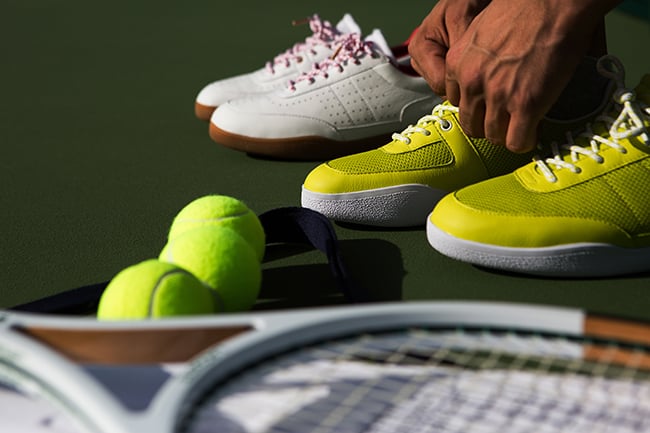 Lacoste in collaboration with SneakerBoxClyde, have executed the Dash model as it celebrates its 30th year in the range. Taking aesthetic influence from tennis symbols, the Yellow Ball and Tennis Racket, the styles are absolutely grounded in Lacoste brand DNA.
Limited to 50 pairs, the Tennis Ball Lacoste Dash inspired execution will be limited to the Addict store in Miami. The aesthetic clearly references the materials of a classic tennis ball, with a fluorescent yellow felt tongue. The upper is executed in sports-inspired technical mesh, referencing the net of a court; an iconic symbol of tennis. Leather hits on the heel, mud guard and facings adds textural contrast on the upper as well as added durability.
The wider global release of 450 pairs takes visual inspiration from another classic icon of tennis; the Tennis Racket Lacoste Dash. The upper is executed in classic white leather referencing the clean confidence motivated by shades of white worn by René Lacoste on court. Punch detailing on the quarter references a core identity of the brand today as a stylish tribute to René who first used the punched tennis racket grip to enhance his sporting performance. The gum outsole is a further reference to the brand's heritage in tennis, while the accented red collar adds a point of contemporary difference.
Launched in line with the Miami Open, the Addict x Lacoste Dash Collection will release on March 22nd, 2016.