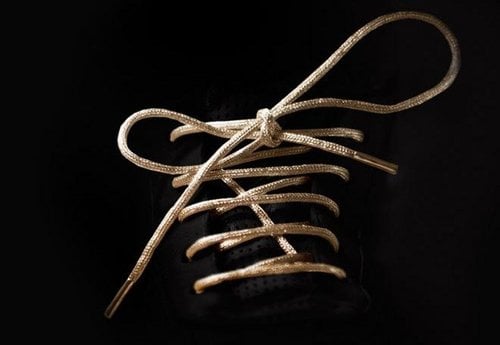 How does being able to lace a pair of kicks in 24k gold shoe laces sound? Sounds like a cool idea, right? Well would you actually be willing to spend $19,000.00 USD to stay ahead of the game?
Well, Artisan jeweler, mr.kennendy is making that possible for any able individual. For a hefty price, you can walk away in a pair of pure, handwoven, limited edition 24k gold shoe laces. As they've been said to take 120 hours to complete, we're sure quality isn't the concern here because clearly you'll get what you pay for! But get this, for ordering a gold pair, they'll be delivered to you by security and laced for you anywhere in the world. Now  that's customer service!
But wait, before you throw in the towel, there is a more affordable option. For $3,000.00 USD you can opt for a pair of pure silver shoe laces. Regardless, this is definitely baller status and worthy of a mention anywhere in public.
If you've got the cash, head on over to mr.kennedy today to lace up in gold. Let us know what you think below!