Model: Puma – Puma Becker
Purpose: Tennis
Original Release: 1980
Updates: Puma News

The Puma Becker was released in 1980 and was the signature shoe of tennis star Boris Becker. Its original use was for tennis of course, but the stylish look makes the Puma Becker look in place no matter where you wear it.
Puma Becker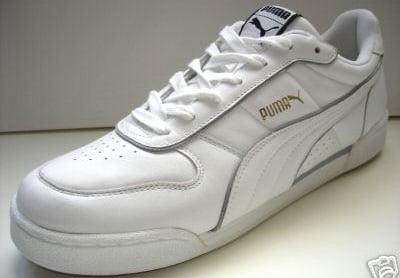 The Puma Becker was a simple design, with the Puma stripe on the side as the main decoration. Soft nappa leather was used on the upper for comfort and durability. The sole features an EVA wedge for extra stability and performance. The inside of the Puma Becker is lined with terry cloth to absorb moisture. Supplementing the Puma Becker was the Puma Boris Becker Ace model.