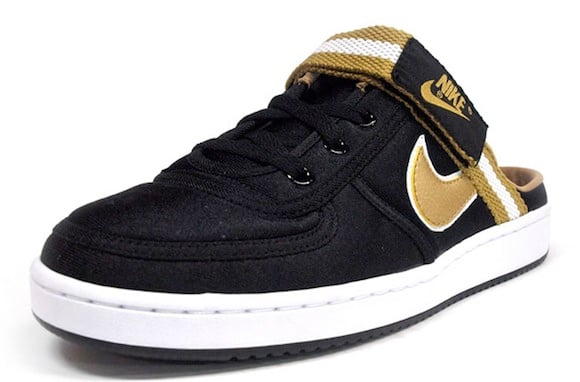 Well, I think it's safe to say no one saw this coming.
Nike has made a name for itself by innovating and defying conventions.  While not necessarily a traditional "innovation," lobbing off the entire heel and collar of the classic Nike Vandal to create the upcoming Nike Vandal Clog is certainly Beaverton thinking outside the box.  To be honest, and I'm sure I'm not alone here, I don't know how to feel about the Nike Vandal Clog.  On one hand it is literally the butchering of a classic, the Nike Vandal, previously seeing only much less drastic changes (low top models, new materials)  since its inception in 1984.  On the other hand, you kind of have to admit – as far as clogs go – the Nike Vandal Clog looks pretty damn cool!  The Nike Vandal Clog is due to begin appearing at Nike retailers in July, sporting either black/gold or silver/red/blue colorways to start.  Each of the first colorways sports a modified version of the ankle strap, a nice nod to the original Nike Vandal Supreme editions.
Keep it locked to SneakerFiles for more detailed release information as it becomes available.  Check out more pictures after the jump and let us know what you think of the Nike Vandal Clog?
Photos: Mita