Nike Lebron James Sneakers
Nike Lebron
At the legal, yet still young age of 18, Lebron James stepped on the professional basketball courts, but not only that, Lebron signed a contract with Nike for $90 Million over 7 years to wear their sneakers and clothing.

Now, people across the world have compared Lebron James to Michael Jordan, one thing is for sure, Lebron James got paid a lot more money from Nike on his first signing. Michael got $2.5 Million over 5 years, and their was a lot of restrictions.



Lebron James is young, he has a lot of years left in the NBA, so over time we will get to see his skills develop. Lebron's third year in the NBA he made his first playoff appearance, and even advancing to the second round.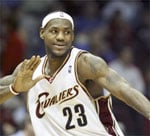 Ht: 6-8
Wt: 240
Position: PG, SF
Date of Birth: 12/30/1984
Birthplace: Akron, OH
Experience: R
High School: St. Vincent-St. Mary HS (Akron, OH)