A part of the Nike x Converse x Space Jam: A New Legacy collection, LeBron James will debut his latest signature shoe, the Nike LeBron 19. James will wear the pair in the film, which hits theaters on July 16th.
The LeBron 19 features a double-chambered Air Max unit in the heel and a newly shaped Zoom Air forefoot unit for a reliable underfoot ride for James. According to Nike Basketball footwear designer Jason Petrie, the new platform was inspired by the futuristic magic behind the movie.
"In designing the LeBron 19, we were definitely guided by what was happening in the film," says Petrie. "We wanted to give LeBron a brand-new feeling that was synonymous with an otherworldly, space-age kind of look."
So far, we have two upcoming colorways of the LeBron 19 set to release. One will come highlighted in Orange inspired by James' Tune Squad uniform, and the other features a White and Blue colorway. Throughout 2021 and even in 2022, we will have more color options to showcase.
Nike LeBron 19 Release Details
You can expect the Nike LeBron 19 to release at select retailers and Nike.com during July 2021. The retail price is $200. As soon as we have more information, we will make sure to update you. For now, scroll below for more photos that will give you a closer look.
Nike LeBron 19
Release Date: Fall/Winter 2021
Price: $200
Nike LeBron 19 Upcoming Colorways
Nike LeBron 19 'Uniform Hook'
Color: Mantra Orange/Light Blue Fury
Release Date: December 18, 2021
Style Code: DC9338-800
Price: $200
Nike LeBron 19 'Dutch Blue'
Color: White/Dutch Blue
Release Date: December 18, 2021
Style Code: DC9338-100
Price: $200
Nike LeBron 19 'Hardwood Classic'
Release Date: 2021
Style Code: DC9340-002
Price: $200
Nike LeBron 19 'Bred'
Release Date: 2021
Style Code: DC9340-001
Price: $200
Nike LeBron 19 'Cream'
Release Date: 2021
Style Code: DC9341-200
Price: $200
Nike LeBron 19 'Black'
Release Date: 2021
Price: $200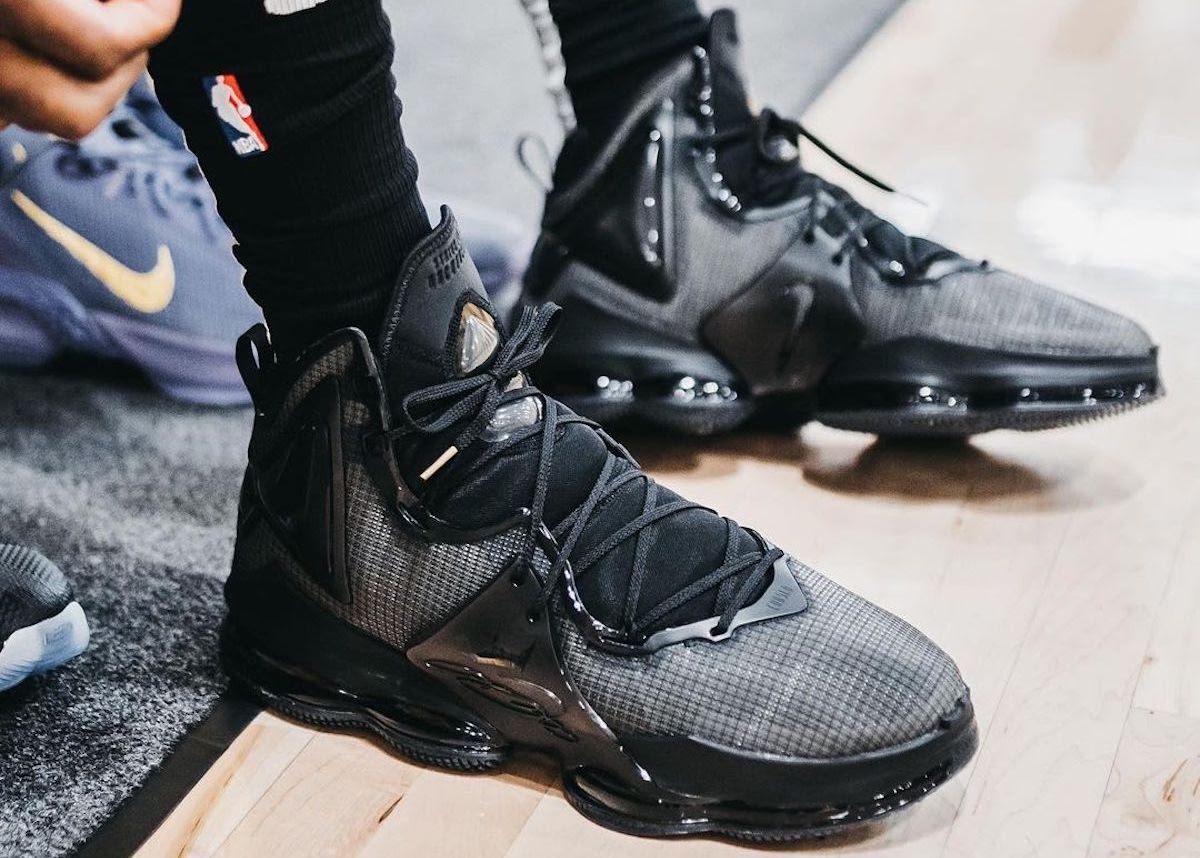 Nike LeBron 19 'Polarized Blue'
Color: Polarized Blue/Crimson Bliss
Release Date: January 26, 2022
Style Code: DC9338-400
Price: $200
Nike LeBron 19 'Bred'
Color: Black/University Red-Black
Release Date: February 19, 2022
Style Code: CZ0203-001
Price: $200
Nike LeBron 19 'Chosen 1'
Release Date: February 19, 2022
Style Code: DQ7548-301
Nike LeBron 19 Low 'Magic Fruity Pebbles'
Release Date: March 7, 2022
Style Code: DQ8344-100
Price $160
Nike LeBron 19 'Neon Green Blue'
Color: Dutch Blue/Pomegranate-Lime Glow-White
Release Date: April 15, 2022
Style Code: DC9341-400
Price: $200
Nike LeBron 19 Low 'Hawaii'
Release Date: April 25, 2022
Style Code: DQ8344-600
Nike LeBron 19 'Doernbecher'
Release Date: April 30, 2022
Style Code: DR6255-001
Price: $200
Nike LeBron 19 Low 'Bred'
Color: Black/White-University Red
Release Date: May 3, 2022
Style Code: DH1270-001
Nike LeBron 19 'Fast Food'
Color: Grey Fog/Roma Green-Total Orange-Bright Crimson/Brown Basalt
Release Date: May 15, 2022
Style Code: DC9341-001
Price: $200
Nike LeBron 19 'Black Green Glow'
Color: Black/Green Glow-Anthracite
Release Date: May 17, 2022
Style Code: CZ0203-003
Price: $200
Nike LeBron 19 'Hard Hat'
Release Date: June 1, 2022
Style Code: CZ0203-700
Price: $200
Nike LeBron 19 Low 'Safari'
Release Date: June 9, 2022
Style Code: DM1058-200
Nike LeBron 19 Low 'LeBronival'
Release Date: June 10, 2022
Style Code: DM1058-500
Nike LeBron 19 'Valentine's Day'
Release Date: June 18, 2022
Style Code: DH8459-900
Price: $200
Nike LeBron 19 Low 'Witness'
Release Date: June 21, 2022
Style Code: DH1270-002
Nike LeBron 19 'King's Crown'
Color: Siren Red/Laser Blue-Psychic Purple-Siren Red
Release Date: June 2022
Style Code: CZ0203-600
Price: $200
Nike LeBron 19 'LeBronival'
Color: Bright Crimson/Malachite-Coconut Milk
Release Date: June 2022
Style Code: DQ7548-600
Price: $200
Nike LeBron 19 'Leopard'
Release Date: 2022
Style Code: DC9340-100
Price: $200
Nike LeBron 19 'Sketch'
Release Date: 2022
Style Code: DC9340-101
Price: $200
Nike LeBron 19 Low 'Floral'
Release Date: 2022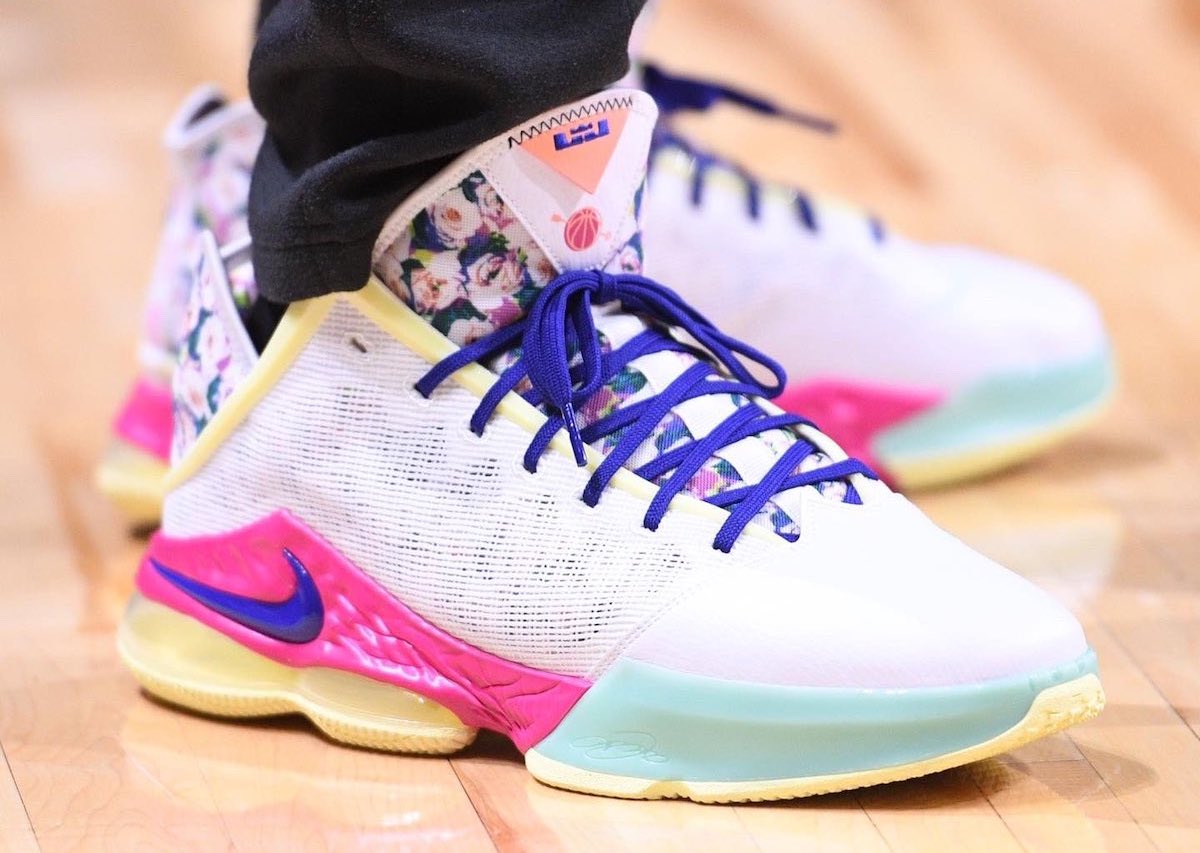 Nike LeBron 19 'Fast Food'
Release Date: 2022
Style Code: DC9340-400
Price: $200
Nike LeBron 19 Low 'Black Toe'
Color: White/Black-Medium Blue-Siren Red
Release Date: 2022
Style Code: DH1270-100