The Invisible or Clear Nike Air Force One was launched in 2006, and started a new fashion. Only two official color ways released of the Clear Nike Air Force 1 the White/Blue "Fantastic 4 Invisible Woman", and a White/Purple color way for women. A small amount of Orange/White samples are around of the Nike Air Force One Invisible, but they will be very hard to get a hold of.

Since the first Nike Air Force One Clear aka Invisible released, a ton of fakes have flooded the market, from Green and White to Black and Gold and I assure you they are fake. The see through epidemic has spread to many other shoes such as Air Jordan's and Bapes, but they are all fake.


After all the fake Nike Air Force 1 Clear/Invisibles released, the value and demand by sneakerheads went down. People no longer wanted a sneaker that was made in many fake color ways, and looked down upon.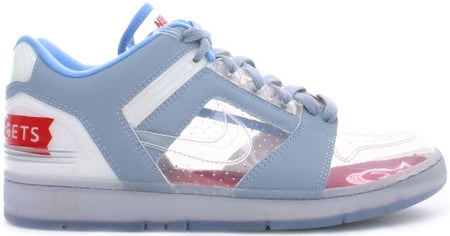 The first Nike Clear or Invisible sneaker was the Air Force 2 "Espo" (pictured above). This shoe was released at Niketowns, and were apart of a "Artist Series".