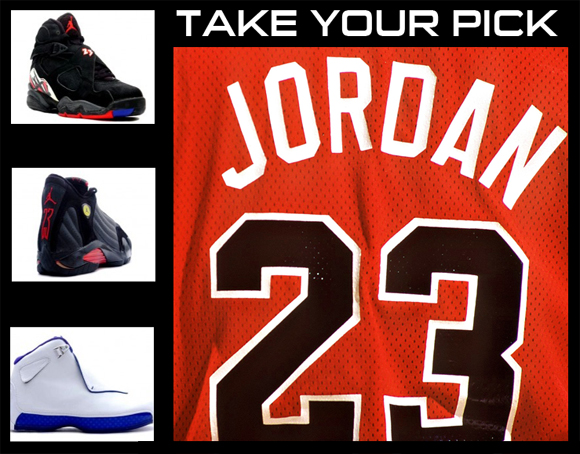 Earlier this week brought the 10 year anniversary of Michael Jordan's very final NBA game.  This, of course, was not the first time MJ stepped away from the court.  A decade later has left even his biggest fans a bit fuzzy as to the sequence of MJ's retirements in relation to the kicks he donned before calling it quits for the last time. So here's a recap before we ask you to choose your favorite Air Jordan retirement kicks.

Jordan's first retirement, although short lived, came after his first of two 3 peats with the Chicago Bulls, in 1993.  MJ and the Bulls defeated Sir Charles Barkley and the Phoenix Suns in six games, resulting in his 3rd NBA Finals championship and NBA Finals MVP. And he did it all in the Air Jordan "Playoff" 8.

His second retirement came after devastating the City of Salt Lake and the Utah Jazz (for the 2nd time) with "The Shot", winning Jordan his sixth NBA title, coupled with his sixth Finals MVP. This time MJ chose to end it in the
'Last Shot' Air Jordan 14
. This was thought to be his permanent retirement—but it wasn't. 
On September 25th, 2001, "His Airness" announced that he would be returning to the game he loves, this time as a Washington Wizard.  MJ played two seasons with the Wizards and, although he proved he could still hang with the new talent of the league, his Wizards failed to make the playoffs both seasons.  Michael's final game came in April of 2003, in a 107-87 loss to the Philadelphia 76ers.  Not quite as successful as his previous two exits, but he did so in style, wearing the
"Sport Royal" Air Jordan 18's
.
Not only has Jordan had an amazing career, but he also had some amazing sneakers on the road to captivating a very accomplished style of play.  So—take your pick.  What was your favorite retirement moment?  Which of the 3 games can you remember?  And most of all, which sneakers where your favorites on his feet?  Was it the Playoff 8's?  The Last Shot 14's?  Or the Sport Royal 18's? Let us know!