Air Jordan VIII – Air Jordan 8
Original Air Jordan 8 (VIII) Release Colorways
Air Jordan Original 8 (VIII) Bugs Bunny White / Black – True Red
Air Jordan Original 8 (VIII) All Star Aquas Black / Bright Concord-Aqua Tone
Air Jordan Original 8 (VIII) Playoffs Black – Black – True Red
Retro Air Jordan 8 (VIII) Release Colorways
Air Jordan 8 (VIII) Retro White / Black – True Red
Air Jordan 8 (VIII) Retro Black / Chrome
Air Jordan 8 (VIII) Retro Low White / Metallic Silver
Air Jordan 8 (VIII) Retro Low Black / True Red – Del Sol
Air Jordan 8 (VIII) Retro Black / Bright Concord – Aqua Tone
Air Jordan 8 (VIII) Retro Womens White / Bright Concord – Aqua
Air Jordan 8 (VIII) Retro Midnight Navy / Pea Pod – Orange Blaze
Air Jordan 8 (VIII) Retro White / Orange Blaze – Silver – Stealth
Air Jordan 8 (VIII) Retro Womens Ice Blue / Orange Blaze – Silver
Air Jordan 8 (VIII) Retro White / Anthracite – Dark Orange Black Toes
Air Jordan 8 (VIII) Retro Black / Varsity Red – White Playoffs
Air Jordan 8 (VIII) Retro Womens Low Black / Real Pine – White
Air Jordan 8 (VIII) Retro Womens Low Dark Cinder/Champagne-Sail
Air Jordan 8 (VIII) History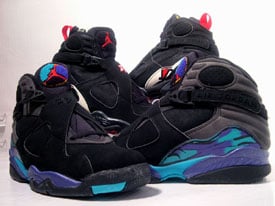 Tinker Hatfield wanted the Air Jordan 8 to not feature a Nike sign. He thought the Jordan Brand was strong enough at this point to hold its own. Tinker brought up to Nike that the Jordan line was strong enough to start eliminating the Nike sign at the AJ VI. After Tinker was done telling his story, Nike pretty much laughed in his face.
It took a lot of time, and a lot of convincing to make this happen, but it finally went through. If you look at the Original Air Jordan VIII model you will notice there is no Nike sign.
The Air Jordan VIII started a lot of talk through sneaker heads, basketball players, or people that enjoyed a pair of Nike's. The design was crazy, the AJ 8 also had a polycarbonate torsion plate, and to top it all off, the color ways blew people away.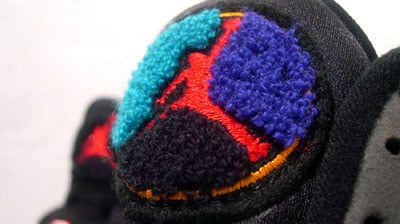 A sad feature about the Air Jordan VIII was they were not as comfortable as other Air Jordan models.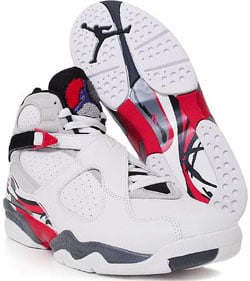 The straps (also called bunny ears) would make the shoe tight on the sides, so people with wide feet had a hard time wearing them. What the
Air Jordan 8
did have going for it is: durabuck uppers, Air sole, Huarache inner sleeve and anti-inversion cross-straps (aka bunny ears).
In 1993 the Original Air Jordan VIII released in three color ways. The Color schemes were White/Black-True Red, Black/Bright Concord-Aqua Tone and Black-Black-True Red. They sold for $125.00. When 2003 came, Jordan Brand released two more models of the Air Jordan 8 selling for $135.00, also two low cut versions of the AJ VIII were released and sold for $110.00.