Air Jordan IV – Air Jordan 4
Original Air Jordan 4 Release Colorways
Air Jordan 4 (IV) Original White Cement White / Black
Air Jordan 4 (IV) Original Black / Cement Grey
Air Jordan 4 (IV) Original Off White – Military Blue
Air Jordan 4 (IV) Original Fire Reds White / Red – Black
Retro Air Jordan 4 Release Colorways
Air Jordan 4 (IV) 1999 Retro Black Cement Black / Cement Grey
Air Jordan 4 (IV) 1999 Retro White Cement White / Black
Air Jordan 4 (IV) Retro White / Columbia Blue – Midnight Navy
Air Jordan 4 (IV) Oreo Retro Black / Black – Cool Grey
Air Jordan 4 (IV) Retro White / White – Chrome
Air Jordan 4 (IV) Retro White/Chrome-Classic Green
Air Jordan 4 (IV) Cool Greys Retro Cool Grey/Chrome-Dark Charcoal-Varsity Maize
Air Jordan 4 (IV) Undftd / Undefeated Retro Olive – Oiled Suede – Flight Satin
Air Jordan 4 (IV) Laser Fire Retro Red White / Varsity Red – Black
Air Jordan 4 (IV) Laser Black Retro Black/Varsity Red-Medium Grey
Air Jordan 4 (IV) Eminem Encore Retro
Air Jordan 4 (IV) Black Cats Retro Black/Black-Light Graphite
Air Jordan 4 (IV) Pure Retro White/Metallic Silver
Air Jordan 4 (IV) Tour Yellow Retro White / Tour Yellow – Dark Blue – Grey – Black
Air Jordan 4 (IV) Retro Mist Blue/University Blue-Gold Leaf-White
Air Jordan 4 (IV) Mars Fire Reds Retro White / Varsity Red – Black
Air Jordan 4 (IV) Retro Womens White/Boarder Blue-Light Sand
Air Jordan 4 (IV) Thunder 2006 Retro Black/Tour Yellow
Air Jordan 4 (IV) Lightning Retro Tour Yellow / Dark Blue – Grey – White
Air Jordan 4 (IV) Military Blues 2006 Retro White / Military Blue – Neutral Grey
Air Jordan 4 (IV) Countdown Pack Retro Black / Cement Grey – Fire Red
Air Jordan 4 (IV) History
The year was 1989, and Tinker Hatfield was back at his tricks storming up an idea for the Air Jordan 4. How would he top the Air Jordan III?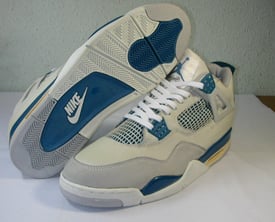 Tinker wanted to get further into performance, rather than some other inspiration that was used on the last three models.
The Air Jordan IV was the first in the line that had an over-molded mesh. The reason for this is, the consumer would think the shoe was made cheap. So what Tinker did was dip the mesh in a soft plastic and blew air through it to clear out the plastic in between.
When the Air Jordan 4 was first released in 1989, people disliked the shoe, said it looked very ugly. Overtime the model grew on a lot of people. Another feature of the AJ IVs was the capability to lace your IVs in 18 different patterns. This gave your IVs your own style.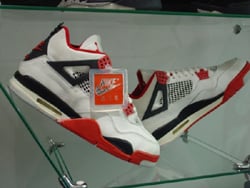 The overall personality of the Air Jordan 4 was saying "get back to work". Michael was a father and husband for the first time in his life, and since the Air Jordan III was such a luxurious model, MJ and Tinker wanted to bring back to the original draw board.
When the AJ IVs were first released in 1989 they retailed at $110.00. In 1999-2000 when the IVs made another appearance they sold for $100.00, also in 2004 they retailed for $110.00. In 2005 Air Jordan did a collaboration with Undftd, auctioning off the shoes between $1500.00 to $2600.00. Also a AJ 4 Laser package was released with a t-shirt and hat that retailed for $200.00, and later that year Jordan Brand released a black color way of the laser IVs that retailed for $175.00. In 2006 a pair of "Rare Air" IVs released with a price tag of $125.00.