Air Jordan XX1 – Air Jordan 21
Original Air Jordan 21 (XX1) Release Colorways
Air Jordan 21 (XX1) Original White / Varsity Red / Metallic Silver
Air Jordan 21 (XX1) Original Varsity Red – Black – Metallic Silver
Air Jordan 21 (XX1) Original Black / Flint Grey / White
Air Jordan 21 (XX1) Original Light Graphite / Metallic Silver / White / University Blue
Air Jordan 21 (XX1) Original White / Metallic Silver – Black
Air Jordan 21 (XX1) Original Low White / University Blue – Metallic Silver
Air Jordan 21 (XX1) Original Low Black / Varsity Red
Air Jordan 21 (XX1) Original PE White / Metallic Silver – Black – Taxi
Air Jordan 21 (XX1) Original PE Black / Varsity Red – Anthracite
Air Jordan 21 (XX1) Original PE White/Varsity Red
Air Jordan 21 (XX1) Original PE White/Varsity Royal
Retro Air Jordan 21 (XX1) Release Colorways
Air Jordan 21 (XX1) Retro Black / Metallic Silver – Varsity Red Countdown Pack
Air Jordan 21 (XX1) History
Jordan Brand went with designer D'Wayne Edwards for the Air Jordan 21. The design of the Air Jordan XXI is very simple compared to the other Air Jordan models. But like always, the Air Jordan XXI was full of high tech materials.
With each year gone by, it is less likely that we will see Michael Jordan back in the NBA (sorry, I hate to break the news). Knowing this, the Air Jordan XXI was best described as being the DNA of a champion.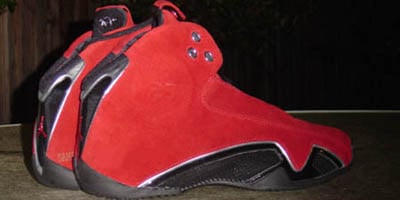 Nothing new as far as inspirations go on the
Air Jordan 21
, which came from a Bentley Continental GT coupe (another car). The front of the Air Jordan XXI is said to look like the grill on the Bentley.
The box that came with the Air Jordan XXI was nice. When opened,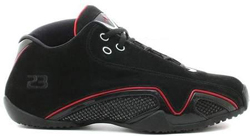 there are two separate compartments for each shoe. Also, the shoes came with a bag that can hold your air Pods.
Here is information released from Jordan Brand on technology, and the profile on the Air Jordan XXI:
Upper: Combination of luxurious Italian suedes with rich full-grain leathers. Forefoot breathability features are combined with a newly engineered durable textile for support and durability in key performance areas. Extended heel counter construction provides extended ankle support. Newly foam-backed quilted collar complements the seamless booty construction to provide maximum comfort. Breathable mesh is brought to the tongue to dissipate heat, while the adjustable tongue cover flips up to expose the breathable technology, or flips down for a more sophisticated look.
Mid sole: Fully-double lasted phylon mid sole provide a low-profile stance. Evolution of the I.P.S (Independent Podular Suspension) now includes interchangeable cushioning technology with a customizable heel zoom pillar or heel encapsulated pillar. Carbon fiber shank plate offers mid foot and arch support.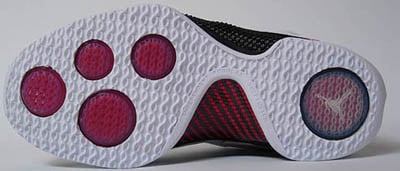 Out Sole: New I.P.S. technology is integrated with the out sole through raised herringbone pods for traction in strategic performance areas. New innovative out sole pattern offers multi directional traction.
Profile: The future is now. The next generation of the greatest performance basketball shoe designed for the greatest player to ever play the game. The Air Jordan 21 shoe embodies all the elements: The man, the style, the legend… Michael Jordan.
The Air Jordan XXI released in four different colorways ($175.00), and two Lows.