Air Jordan XX – Air Jordan 20
Original Air Jordan 20 (XX) Release Colorways
Air Jordan 20 (XX) Original OG White / Varsity Red – Black
Air Jordan 20 (XX) Original Stealth Black / Stealth – Varsity Red
Air Jordan 20 (XX) Original Quickstrike White / Black – Varsity Red
Air Jordan XX (20) Original East Coast Chutney / White – Black
Air Jordan XX (20) Original Midwest Varsity Red / White – Black
Air Jordan XX (20) Original West Coast University Blue / White – Black
Air Jordan XX (20) Original Low White / Midnight Navy – Neutral Grey
Air Jordan XX (20) Original 3/4 White / Metallic Silver / Deep Garnet
Retro Air Jordan 20 (XX) Release Colorways
Air Jordan 20 (XX) History
The Air Jordan 20 would launch in 2005, which means it was Nike and Jordan Brand's 20th anniversary. Tinker Hatfield had not designed for Jordan Brand since the Air Jordan XV, but it was Gentry Humphries' (Footwear Business Director) idea to have him design the Air Jordan XX. It took Tinker about five seconds before he responded with a yes.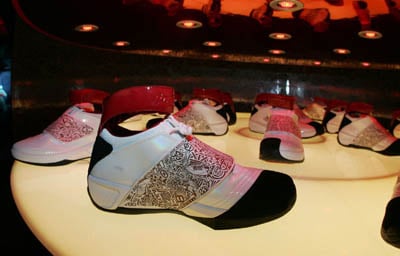 Inspirations for the Air Jordan 20 came from custom trumpets, motorcycle tires and racing boots. David Monette, who designs custom trumpets and engraves designs (better known as lasering) was the cause of the Air Jordan XX for having the lasering on the mid foot strap. Mark Smith (Nike's laser expert) came to design the midfoot strap.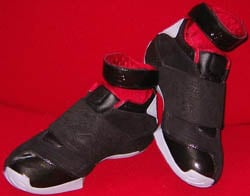 Now if you look close on the mid foot strap on the AJ XX you will notice symbols. Each symbol represents an experience MJ has had in his life. Here is some examples of what was on the shoe, and reasons for them:
1976 Chevrolet Monte Carlo – Michael sitting in the back seat represented with his mom (Deloris), bringing him along to her office when Michael was grounded.
The Bus Driver cap with golf clubs crossed – When you played a game with Michael in golf and you lost, you had to wear a bus driver cap on the walk back from the clubhouse.
Toolbox with the word POPs – This symbol was for the late and great James Jordan (Michael's Father R.I.P.), who could fix almost anything around the house.
44DT – For Hall of Fame David "Skywalker" Thompson, who Michael looked up to in the mid 1970's.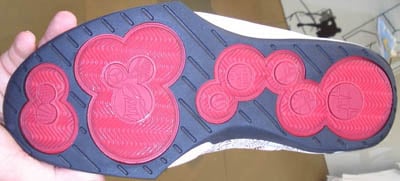 The specs on the Air Jordan XX are insane, and since its Jordan Brand, you know already they were going to have the best technology. Some of the great qualities are: I.P.S.(Independent Podular Suspension) "pods", internal shank plate, phylon mid sole, and a cool strap to make the shoe feel a little more "secured" to your foot. When the
Air Jordan XX
released in 2005 a total of three colorways, plus a "Regional Pack", (that also contained three colorways) retail was $175.00. One pair of Lows and 3/4 model released for $125.00.