Air Jordan XII – Air Jordan 12
Original Air Jordan 12 (XII) Release Colorways
Air Jordan Original 12 (XII) Taxis White / Black – Taxi
Air Jordan Original 12 (XII) White – Varsity Red – Black
Air Jordan Original 12 (XII) Obsidian – White – French Blue
Air Jordan Original 12 (XII) Black – Varsity Red
Air Jordan Original 12 (XII) Black / Varsity Red-White – Metallic Silver
Retro Air Jordan 12 (XII) Release Colorways
Air Jordan 12 (XII) Retro Black – Varsity Red
Air Jordan 12 (XII) Retro Nubuck Black / White – University Blue
Air Jordan 12 (XII) Retro White / Flint Grey – Metallic Silver
Air Jordan 12 (XII) Retro White / French Blue – Metallic Silver – Varsity Red
Air Jordan 12 (XII) Retro Playoff Black / Varsity Red – White – Metallic Silver
Air Jordan 12 (XII) Retro Womens White / University Blue – Metallic Silver
Air Jordan 12 (XII) Retro Melo White / University Blue – Metallic Silver
Air Jordan 12 (XII) Retro Low Obsidian / University Blue – White
Air Jordan 12 (XII) Retro Low Taxi White / Black – Taxi
Air Jordan 12 (XII) Retro Womens Low White / Real Pink – Metallic Silver
Air Jordan 12 (XII) Retro White / Black – Taxi Countdown Pack
Air Jordan 12 (XII) History
A new year means a new shoe design from Nike and Air Jordan. Nike Basketball was heading into a different direction with foamposite, shox, and big air bubbles in shoes. What can the Air Jordan 12 do to compete? Believe it or not the AJ XII got started with a woman's fashion shoe from the 19th century called "Nisshoki". Michael is big on fashion, and he knows women have a lot of it. He did not care if you made fun of him for wearing a women's wrist band or something else feminine.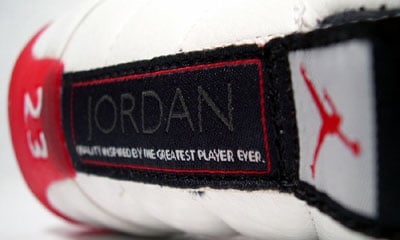 On the Air Jordan 12 there was more than just the women's high heel for inspiration, but also the Japanese Rising Sun flag played a big role in the making.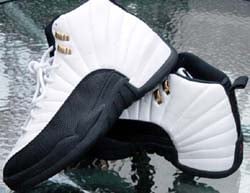 The stitching down the sides resemble sun rays. If you look at past Air Jordan sneakers, you will notice the famous "23" located somewhere on the model. On the Air Jordan 12 Michael wanted a different look with his number 23. So an idea came to Michael Jordan to have 23 written down the tongue, written like this: Two 3.
A lot of good qualities were on the Air Jordan XII, for example they had the Zoom Air unit (also the first Air Jordan to have a Zoom air unit), modified herringbone pattern for improved traction and a more improved carbon fiber shank plate.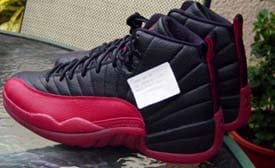 When the Air Jordan 12 first released in 1996 they sold for $135.00, and five different color ways were released. In 2003 two color ways released selling for $135.00, and a pair of Air Jordan XII cleats released. A couple months later an Air Jordan XII package was sold which came with the Air Jordan XII, hoody and hat which sold for $200 (online only). 2004 was now here and four color ways came out of the Air Jordan XII, which went for $135.00, and three AJ XII lows dropped selling for $115.00.