Air Jordan XI – Air Jordan 11
Original Air Jordan 11 Releases – Colorways
Retro Air Jordan 11 Releases – Colorways
Air Jordan 11 (XI) History
The Air Jordan 11 are loved by many sneaker enthusiasts and are always a sell out.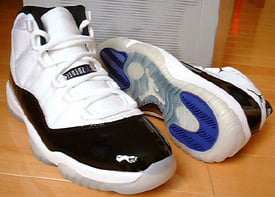 Michael Jordan was now back in the NBA, and the Air Jordan XI was his shoe for the 1995-1996 season. But before Michael Jordan wore the model, Tinker had to design them.
Tinker Hatfield thought that Nike should pull out all the stops and make a shoe out of materials that had never been used in a basketball shoe. At first, Tinker was thinking of using some high-end nylons, but good thing he changed his mind. Tinker wanted the Air Jordan 11 to look like a convertible, with a shiny body, so that is why the Air Jordan XI had patent leather.
Not only was it the patent leather on the Air Jordan XI made them special, but the addition of a lightweight Phylon midsole with a full-length Air-Sole unit and full-length carbon fiber plate, as well as being supportive. But sadly, there were some defects in them.

For the look of the shoe itself, Tinker was (like always) thinking of some inspirations. If you're an artist, then anything can inspire you, so when Tinker saw a yellow lawn mower you wonder how he fit that into the Jordan 11. According to Tinker: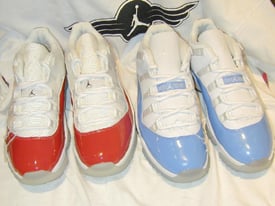 "There are designers out there designing lawn mowers to look like sports cars.".In 1995-96 playoffs, Michael had a bad spill wearing the AJ XI, and the reason being is poor traction. Also the midsole would get creases very fast.
When the Air Jordan 11 came out in 1995 they sold for $124.99. Three mids were released, and two I.E. lows (which sold for $115.00). Only five pairs of the Air Jordan XI "Space Jams" were made for Michael, for the movie Space Jam. Five colorways re-released in 2001-2002 going for $125.00. Eight Air Jordan XI lows were released in 2001 which sold for $120.00, and two I.E. lows were released in 2003 $119.00. In 2006, a Defining Moments Package was released which contained the Air Jordan XI and Air Jordan VI.