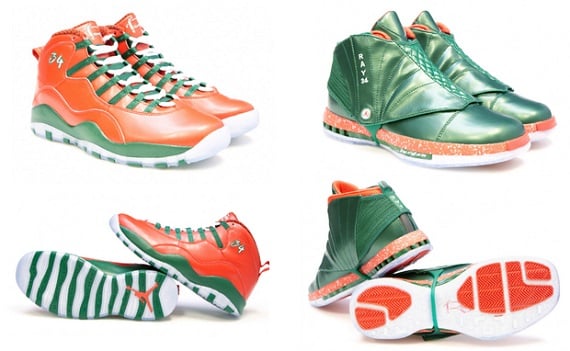 Happy Holidays Sneakerfiles readers! If you were able to catch any of the NBA games on TV today, you would have seen major heat hitting the courts. One shoe in particular was a Christmas gift from the Jordan Brand to Miami Heats' very own Ray Allen that he wore when they won against the Los Angeles Lakers. The Air Jordan 10s featured a Christmas theme with red and green blocking, and Ray's jersey number can be found on the ankle of the Jordan 10s. Ray also got another pair for Christmas as well, the Air Jordan 16s. As with the 10s, the latter sneaker featured a red and green colorway, however his name and digits don the removable gator on the 16s.
Let us know what you think of these sneakers – would you cop a pair if they were made available to the public?
Photos via Jumpman23.