Model: Adidas – Adidas Gazelle
Purpose: Indoor Soccer
Original Release: 1968
Updates: Adidas News

The Adidas Gazelle is a simple looking classic that first released in 1968. There has been some speculation as to the original purpose of the Adidas Gazelle, as some people believe that it was intended to be an indoor soccer shoe. Others say it was designed for running, but most people have settled on it being a training shoe.
Adidas Gazelle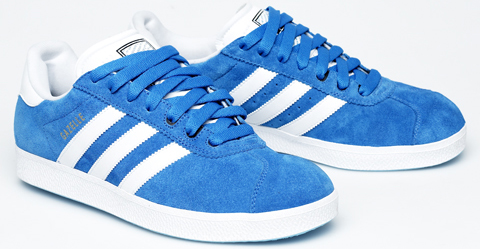 The Adidas Gazelle has been released in a wide variety of color ways, but always features the brand's traditional three stripes on the side and trefoil logo on the tongue. The Adidas Gazelle is also very lightweight, making it good for dancing. B-boys and other hip-hop heads have adopted the Adidas Gazelle as their shoe of choice.

The Adidas Gazelle is named after the gazelle, which is a small African antelope. The shoe's design clearly gets its inspiration from it's name itself.