Model: Converse – Converse Aero Jam (Grandmama)
Purpose: Basketball
Original Release: 1993
Updates: Converse News
Converse marketing team was on point with the Converse Aero Jam and Larry Johnson. Back in 1993-1994, you would see Larry Johnson dressed as a Grandma in the Aero Jam, giving them the nickname Grandmama.
Converse Aero Jam (Grandmama)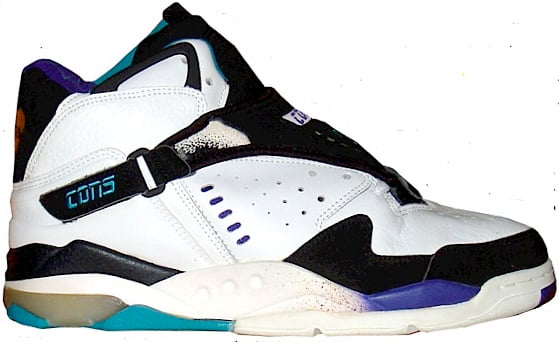 [ratings]

Two colorways originally released of the Converse Aero Jam "Grandmama", both inspired by his team (at the time) Charlotte Hornets; white/black/teal purple and black/teal. In 2003, Converse retro both colorways. The retro was not like the original, the gradient splatter on the midsole was removed, plus you could not remove the straps (original you could).