Air Jordan 3 2001 Retro True Blues White / True Blue
The Air Jordan 3 Retro True Blue released again on November 17th 2001. This was the first Retro for the Jordan 3 True Blue, and sold well in stores. A general release, so at the time you could easily purchase the Air Jordan Retro III True Blues.
Since then, prices for the Air Jordan 3 (III) True Blue has skyrocketed, going from $350 – $450. The only down fall is the Jumpman logo, and not the Nike Air at the heel.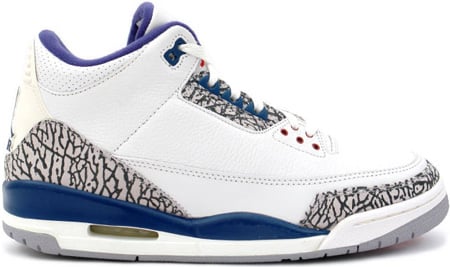 True Blue Air Jordan 3 2001 Retro Info
Model: Air Jordan Retro 3 (III)
Nickname: Air Jordan 3 True Blue,
Retail: $100
Release Date: 11/17/2001
Product Code: 136064-141
Color Code: White/True Blue
Release Type: General Release
Past Release: 1988
Information: Air Jordans – Air Jordan Release Dates