Model: Adidas – Adidas Kegler Super
Purpose: Training
Original Release: 1980's
Updates: Adidas News

The Adidas Kegler Super is a training shoe that was released in the 1980's. It is a low-top model with a simple design that is very popular.
Adidas Kegler Super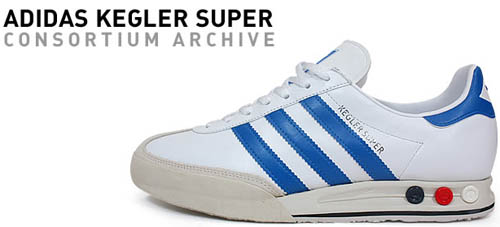 Leather is used for the upper and the three stripes lay across the side, as with most Adidas models. A suede strip at the toe gives the Adidas Kegler Super some detail. It uses a peg system at the heel to control the comfort level.

The Adidas Kegler Super was reissued in 2004. Adidas also produced 100 limited edition models that had ostrich-skin uppers with gold pegs.