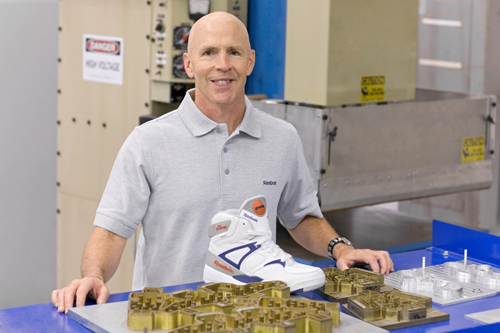 We sat down with Paul Litchfield, the founding father of the Reebok Pump, to discuss the technology's 20-year history. Originally released in 1989, Pump technology has been worn by sports legends such as Dominique Wilkins, Dee Brown, and Michael Chang, and continues to remain relevant and exciting in the modern sneaker industry. Recently, the Pump has stirred excitement with it's 20th Anniversary Collection that released at select collaborative boutiques today.

Sneaker Files: To prepare for our chat, I read a bunch of things about you. Some I knew, some I wasn't aware of, but just to really get to the meat of all of this… When the Pump first started to be put into production, could you tell us how many colorways there were, and if there were plans for youth sizes from the beginning?

Paul Litchfield: Initially, it was a Mens product, I can't recall the exact size run, but it did not go down into Kids at the time. Also, initially, we only had the White/Blue/Grey colorway. We fairly quickly came up with the Black/White colorway, probably a couple months later, but rolling out of production at first was just the White one.

SF: Originally, was it planned to be a basketball sneaker, specifically?

Litch: Oh yeah, it actually was. We designed the Pump platform to offer a kind of customized fit and support for Basketball players. Back in '89, the basketball shoes were a lot higher. These days almost everything's got a mid-cut.

SF: Yeah I've noticed that, to cut down on the bulk. You know, I have a pair of the originals, they are super high. They're so cool just to keep, because they're so different looking.

Litch: Yeah, today they are, definitely. The whole profile itself is different.

SF: Micheal Chang signed on to be endorsed by Reebok and to wear the Pumps, the low-cut tennis sneakers —

Litch: Actually Michael had a mid-cut. It was kind of low in the back Achilles area, but it was a mid-cut. He really helped us out a lot with that.

SF: Was he your first athlete to officially sign?

Litch: I'm not sure the first athlete to sign on was, but coming out of the gates after we finished the development, the shape and the fit (of the sneakers) we knew how the pump worked. We immediately went out to a bunch our NBA athletes, including Dominique Wilkins, the late Dennis Johnson, Doc Rivers, Byron Scott, those guys, and we basically had them try them and had them kind of give us feedback.

SF: The feedback came back pretty well, I imagine!

Litch: It was very cool, and it was funny because Dominique was down in Atlanta, we had a bunch of the Celtics, and then we had a few of the guys on the west coast, like Byron Scott in LA, so a whole lot of different types of basketball, and each one of the guys came in and really started getting into pumping up the shoes to fit their game and their style. It became their own kind of little signature, it was pretty cool, it was not something invented, it just kind of occurred that way and the athletes really got into it.

SF: How many years, or how long after you guys put the Pump into production did Nike kind of take that idea and do their own thing with it?

Litch: They never really did, actually. They had attempted a shoe at the exact same time that we were attempting it, but frankly Steve, ours kind of kicked their butt.

SF: [Laughs] At the time you guys were dominant.

Litch: We had designed a shoe that I think was really elegant, it not only performed really well and customized your fit really well, but it was so simple to use. The Pump was in a big orange basketball, right on the tongue, the release was on the back of the heel and all you had to was bend over and release it, whereas the Nike product you had to carry around pumping tools in your hand and it was strange and just wasn't convenient. It didn't fit the same way ours did, so it never really went anywhere.

SF: Yeah, you had to carry around whippets in order to pump up the Nike version, I believe.

Litch: Actually, that was something we had done called our Insta-Pump device. Basically, what happened was in '89 when we did our first Pump shoe, we had the on board pump and it was what you'd call a manual pump, you bent down and did it yourself. It was really, like I said, very elegant, it was simple, people got it. The Nike one at the time was a hand held pump, it was almost like the pump you'd use for pumping up a blood pressure cuff or something like that when you're at the doctor's office. A little later on, Paul Fireman, who was the CEO and owner of Reebok, he basically said he would love to somebody at the Olympics, a sprinter in the 100-meter dash, go for the gold medal and kind of instantly inflate his shoes and then win the race, we kind of took it as our own challenge to try and find a way to do that. A couple years later we had eventually come up with a device that uses the CO2 canisters from like a BB-gun or something like that, and you could put it on top of the release mechanism of the Pump ladder and you could go ahead and instantly inflate your shoes, so it worked out well.

SF: So what was the original retail price of the first style?

Litch: Our first Pump model came out at a $170 in November 1989. It was definitely up with the very top region of footwear, almost getting into the realm of athletic equipment, but we weren't the only ones up there, there were a couple other folks up in that price range with different products and models.

SF: I remember having a choice between going to Disney World that December for Christmas vacation, or getting the Pumps. I went with Disney World.

Litch: What is wrong with you?! I hope you've been to counseling since then.

SF: [Laughs] Well look at all these years later, I think this is my counseling!

Litch: [Laughs] It was one of those things where there were a lot of costs and a lot of complications that went into it. A lot of the Pump components were made in medical grade manufacturing environments, because that's where we got a lot of the materials and the products from. It was basically the same kind of method that they use to make (intravenous) bags and things like that, so it was really a fairly costly item to make. There were a lot of steps to make sure it was ruined in the shoe building process and all that, it was costly. The thing that kind of validated it for me, was that it seemed to work really well, and when people got into the shoes they knew they worked.

SF: You used good materials, aside from the engineering, design, athlete endorsements, wear-testing, and all the extensive research that went into the production of the first shoes, the materials themselves are pretty superior.

Litch: They absolutely are, and that was one of the most critical aspects to go into this thing. We were setting a new agenda, we were trying to create customizable footwear in a mass manufactured shoe, and we knew that it had to work and it couldn't fail, it couldn't leak, it couldn't degrade and break down over time. We kind of looked at it the same way as a car.

SF: Absolutely, you built a pretty big brand with the Pump, and twenty years later it's still relevant. Seemingly, you guys took the right approach with that. The shoes still do well today, when you market a release with a boutique or something to make it sort of appealing to the younger people, as well as the collectors and hobbyists.

Litch: I've been flattered and I feel pretty honored to be part of the whole thing because it continues to be relevant, and that's really cool. That's not what we were trying to do in the beginning —

SF: If I recall, in the beginning, you took a Ski Boot or something that had some type of Pump-ish technology in it, if you will? I remember reading something about that…

Litch: Yeah, it's really cool. Back in the day, I was a firefighter and they do things like air-splints which are basically big inflatable bags around the body. In the ski industry they were trying different ways to make better fitted straps, and a couple ski companies put these inflatable chambers on their ski boots to put more pressure on the foot, through the tongue and things like that. The beauty of a ski boot is that you can use brass fittings and metal devices to make a big mechanical pump that can weight a pound or two and still make it work. We didn't have any of that opportunity, but we took existing air-casts and ski boot parts and tried fit them all onto basketball shoes and other different shoes and that's how we kind of experiment, you take different parts of different products and kind of strap them on to your shoes and see how they work.

SF: It's kind of funny how it was on the back burner for you guys, it was something that wasn't taken very seriously and then it sort of just came all together.

Litch: You're right, for the basketball shoes, one of the things that we had done is that we had set a pretty great agenda with the Reebok product line and Reebok basketball in the NBA in the mid-eighties when we launched basketball. But you know, Paul Fireman wanted to kind of hone the industry, hone his piece of the basketball marketplace, better fitting products and custom fitting products were kind of Reebok hallmarks, and we set out to try and find a way to customize the product. To be really candid with you, we tried a bunch of different ways to customize the basketball shoe, we tried straps, we tried different types of foam, different types of fitting devices, and in our own little Frankenstein laboratory, tried to create solutions, and that's what we do everyday. Have you ever seen, on the science channel, there are those junkyard guys who go ahead to build things with things they find in the yard?

SF: Fo' sure!

Litch: That's what we do everyday. We basically take the performance factors of any sport, for basketball we wanted fit and we wanted support, we wanted the ability to not immobilize your ankle like a cast, but manage the movement so that you wouldn't twist your ankle. In doing that we tried a bunch of different things and we ended up with the inflatable air chamber that allowed for just enough restriction and just enough fit where it customized the shoe to your foot, and your left foot and right foot are never exactly the same, and it works with all of that. I have a huge vault of things that we tried that didn't work so well, and to ultimately come up with the Pump is very very cool, but there's a lot of knowledge behind that.

SF: Yeah, definitely. Now, twenty years later, where has the technology moved? Are you guys planning to develop it further? Obviously, the Pump is a household name, but do you plan on continuing to develop the tech of that, move forward, and perhaps develop something new?

Litch: Great question, Steve! We have a few things going on. Number one, we have continued to kind of hold our execution of the Pump, you mentioned some of our retro products, we've got a pretty strong platform in our retro line for reproduction of  some pretty cool products. We've also done some great custom option products as well in the last couple of years. We made a model where you essential walk on top of a pump underneath your heel, you don't feel it, but its underneath your heel and it automatically inflates the midsole of the the shoe. That was very cool, and has been fairly successful for us, I think you'll see that coming back sometime in the future. Then also, we've been working on some Pump platforms that I can't tell you about in detail, but I am really really excited about the future of Pump. We are finding ways to bring customization, custom fit, custom support, to a whole new level and we're getting pretty close to that. I think Pump has got a lot more life and I'm hoping that we can set a whole new agenda, where people still enjoy the Pump as it stands now, but they'll look at the new one and go 'Wow, this is something way different'.

SF: It looks like Allen Iverson is in his final days of playing NBA ball, he probably was your biggest basketball contract player of all-time, definitely in recent years. Do you guys plan to continue having marquee, perennial All-Stars to wear your line? Iverson was wearing his own line, but he also wore the Pumps.

Litch: You know, I'm really a humble shoe maker down here. I don't do the promo stuff, I do know Allen has been a phenomenal Reebok spokesperson and athlete for us over the years, and I don't know if he's in his last years or how much longer he's got, but Allen Iverson can wear Pumps any day he wants to as far as I'm concerned! As far as the product goes moving forward, I'll tell you this, if me and my group can make a product that is really impressive and makes a difference, I'll bring it to the Reebok business unit, we'll show it to them, we'll test our athletes in it, and if it works, the business unit will come back to me and say 'we need x amount of sizes and x amount of colors because we're going to put it on these athletes', and the athletes themselves will be asking for it. It's kind of the chicken and the egg thing. I'm not sure what the plans are, or what they would be, but if I make a good product, I'm sure we'd get a group together instantly and very effectively.

SF: How long have you been with Reebok?

Litch: I've been with Reebok for about twenty-three years, I'll start my twenty-fourth in January.

SF: So you got in at the right time?

Litch: I was so – lucky, it's unbelievable. Yeah I did, I got in at the right time. I was one of three researchers that were hired, we had only three designers at the time, and there was a Vice President of research and design. I was really really lucky. I got in, found out through some quirk of fate that I could make shoes and I knew how to put things together for athletes. Yeah, I got really lucky, it was really cool.

SF: Sounds like it! Thanks very much, we've got a lot of good stuff here.

Litch: I actually just want to thank you very much for your time and your interest in Pump and Reebok, this is very cool and I appreciate it.

SF: My pleasure! I hope you enjoyed this, I think this whole blog thing has become a really big deal, it's almost like an Eastbay with opinions.

Litch: It absolutely is. It kind of funny, I've been here for a long time, I've been doing this for a long time, and we have spokesmen. I'm hugely proud of what I've done here at Reebok and I'm really really happy with being able to have created a bunch of products for Reebok, but that's my job. In fact I'm sitting here in my own kind of self validation, so to come out to talk to you guys and all that, I'm really kind of honored and humbled by it, so thank you.

SF: And I appreciate your time. There are not a lot of products that I can still get excited about, you know… covering this stuff, reading about it, writing about it everyday, there are only about half a dozen shoes that I could tell a story about, and your Pumps are one of those half dozen for sure, so thanks again.

Litch: I appreciate it, take care.